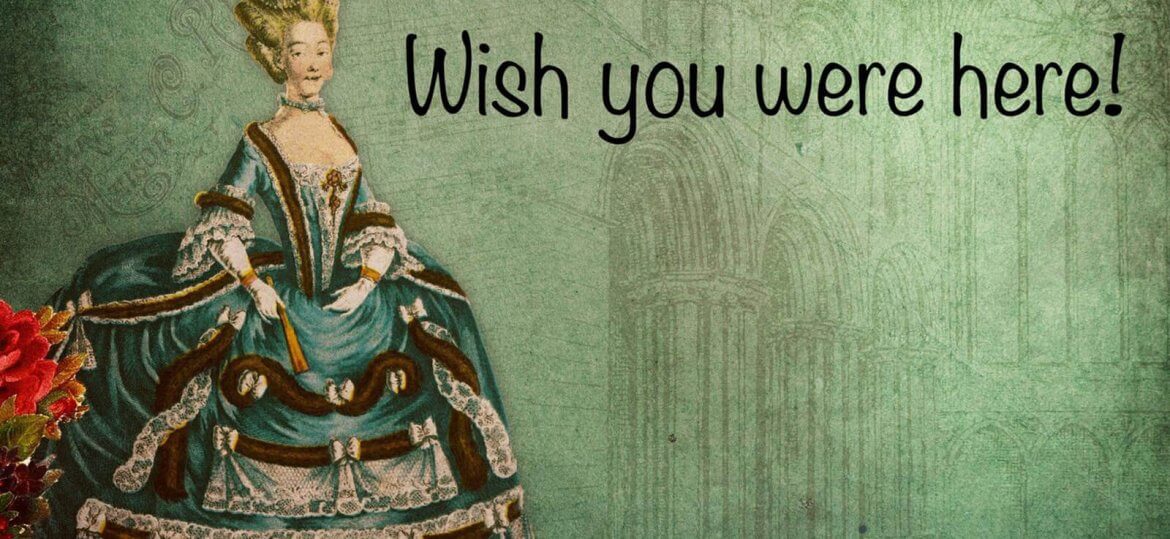 Holidays abroad are a hazy, distant mirage, tantalisingly close but still out of reach as Covid continues to cast clouds over another summer. Staycations (a supremely irritating word from the Corona lexicon) are the best option but in short supply. Despite popular belief that a summer holiday is our inalienable right, it's only very recently that employees have been entitled to paid breaks. There's still many people that can barely afford the bus fare to the seaside let alone soar the skies to far-flung paradises.
The origins of summer holidays seem rooted in mystery. Many believe (mistakenly apparently) they began so children could help during farming's busiest times. However, actual holiday dates don't coincide with busy agricultural periods. American scholars explained that as cities grew, hot months became unbearable due to the "urban heat island effect"; a fancy term explaining the obvious – overcrowding overheats. The rich, made like the proverbial rat from a sinking ship, and scurried to shadier climes. Those left sweltering in hot and dusty half-empty schools were disinclined to continue schooling and so the long summer vacation was born. Of course, most people couldn't afford to sojourn in the breezy Hamptons and were left sweating on their stoop but at least they weren't sweating over algebraic equations. While enlightening, this sheds little summer light on the UK. It's unlikely the Brits ever needed to escape soaring temperatures despite the 'famous' heatwave of 1976. So we remain mystified while school kids rejoice and parents sob.
Holiday has its roots in the Old English word hāligdæg, which translates to holy day but a two week all-inclusive hogging sunbeds is far removed from a religious holiday despite a different kind of hogging. The entitlement to take a paid break was a long-fought battle spearheaded by trade unionists and committed citizens against the government and disinterested employers. It took until 1938 for the Holidays with Pay Act to pass and many more years before it was properly accepted. France was the first country to pass paid holiday law in 1919.
Of course, people have travelled recreationally for centuries but with scarce information about ancient civilisations, historians are hard pushed to pinpoint the origins of tourism. It may be that the Neanderthal family would pack a flint and a clean pair of furry pants to paddle in the sea but we have yet to uncover cave postcards wishing you were here. Some archaeological digs have unearthed artefacts clearly from other places, indicating that our ancestors also liked bringing home a wee souvenir. Evidence also reveals that many civilisations travelled simply to see what lay over the horizon such as the Phoenicians, Mayans and Egyptians. Of course, most travel was taken to engage in conquest and trade but a privileged few just went for a jolly.
Tourist travel depends on specific conditions: The means to travel requires roads or waterways at the least. The Nile made it easier for Egyptians to get about and scribes mention visitors coming to see the Pyramids. It would take the arrival of trains, planes and automobiles, centuries later, to herald the true birth of tourism. Safety was also paramount. For those living in an era that boasted roads and ships, travel was ill-advised due to a propensity of pirates and highwaymen who could add a serious downer to your holiday. Naturally, money is an essential condition. While we are lucky enough to wave our phones over sensors, it was many years before foreign currencies were globally accepted. In fact, the invention of the credit card marked another leap forward for tourism removing the hassle and danger of carrying money. Finally, one needs to have time. In ye days of old, it took an hour to cover 3 miles and only during daylight. It's little wonder that most travellers were soldiers or merchants.
Nevertheless, Audrey Hepburn was not the first to take a Roman holiday. Many of those obstacles were overcome by the Roman Empire, who brought us
working roads, a common language and the denarii, far more popular than the bitcoin. Roman citizens, excluding the plebs, were known to have villas by the sea and take trips to places such as Pompeii. Emperor Augustus demanded inns be built every 25 miles for his officers but they could, of course, be used by anyone with coin to pay and patrols kept travellers safe. The Ancient Greeks also encouraged holidays enticing visitors to festivals and events like the Olympics by providing places to eat, drink, sleep and amuse yourself. Many ancient civilisations were known to visit thermal springs. Records from the 6th century show Japanese 'onsen' (hot springs) were a popular destination long before the Victorians discovered a predeliction for wallowed in water.
However, the fall of the Roman Empire marked a downfall for holidays and fun of any kind as feudalism and the church took hold. The middle ages really were fit only for the travel of plague bearing fleas. Pilgrimages, Crusades and plague-bearing fleas were the main travellers and they would have received terrible ratings on Trip Advisor. It wasn't all war, hairshirts and pestilence though. Chaucer's 14th-century travelogue, The Canterbury Tales, reveals that many went on pilgrimages to explore more than spiritual enlightenment. If Chaucer's bawdy tales are remotely anecdotal, it seems a medieval road trip could oft be a rollicking good time. Henry VIII didn't share the pilgrim vibe and soon put an end to these pious shenanigans. He destroyed their shrines including Chaucer's favourite tomb of Thomas Becket at Canterbury Cathedral.
Meanwhile, Marco Polo inspired the Renaissance gap year kids. His tales of journeying along the silk road between 1271 and 1295 laid the foundations for the elitist and fashionable Grand Tours of the 18th century. Fashionable young things, accompanied by a chaperone, were sent to Europe to expand their minds.
Recreational travel ebbs and flows through history. The Industrial Revolution tied people to factories and a social ideology that favoured 16-hour days over 2-weeks annual leave. The 48-hour weekend didn't even exist until the 1930s. Then two world wars and intervening financial depressions ended tourism for all but the most foolhardy. And now just as international travel has become more accessible we are stymied by a ferocious pandemic and an even more worrying environmental crisis.
The current crises have brought a much-needed renaissance to the humble British seaside town, and they are becoming popular again alongside the traditional campsite, caravan and Butlin style holidays that characterised early 20th century UK.
The first place to be called a "hotel" was in Exeter in 1768 but it was the introduction of the UK's first bank holiday that really helped people other than the top 1% to take enjoy leisure trips, many of them tripping to the seaside. The first pleasure pier was built in Brighton in 1823 followed by a wave of donkey rides, Punch and Judy and sticks of rock along the British coast.
Then In 1841, a former Baptist minister organised a temperance trip for over 500 people to travel from Loughborough to Leicester. It was the first package tour including food, accommodation and travel for one shilling per person. His name was Thomas Cook.
It was several years before the package holiday really reached its hey day but the 1970s was the decade of straw donkeys and flamenco dolls. The lower costs of airfare turned dreams of going abroad into reality. People compared tans into the eighties and beyond, travelling to more and more distant and exotic locations. Charity treks in China, student gap years to Asia, all inclusives with ensuite swimming pools – it's a tidal wave of decadence that has exerted an enormous toll on the planet and inevitably has come crashing down.
As to the future of the summer break, that is anyone's guess. But history shows that the human spirit needs to travel. All that is in question is how and where. Environmental concerns will be paramount if we still want a planet on which to travel. At the other extreme is the possibility of space travel. While snapping a selfie alongside Neil Armstrong's footprints on the moon could be beyond our lifetime, it's thrilling to think the possibilities are as endless as space itself.
Copyright by Sonia D. Picker
---